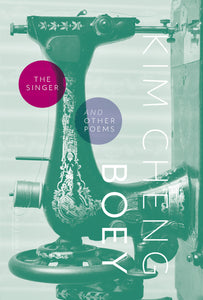 Cordite Books
The Singer and Other Poems
Regular price
$13.00
$0.00
Unit price
per
ISBN: 9780648917663
In his elegy for his late wife, 'Michiko Dead', the poet Jack Gilbert writes about a man learning to carry 'a box that is too heavy', testing different ways of carrying until he 'can go on without ever putting the box down'. It is a poem about learning how to live with loss and death, and an instance of the art of carrying' the poem as an act of bearing.
When I was younger, poetry carried me posthaste, high on the fuel of experience and freshness of thought, from initial impulse to final form. In middle age the roles are reversed – I am the mule, the porter, learning the weight and heft of the poem so I can carry it long-distance – over months and often years.
Perhaps the change occurred the moment I became a migrant. There was the baggage lugged from a past life, the freight of memories. There was the weight of new experiences, and the weight that came from being in between places – new and old mixing in a load hard to measure, harder to carry. And there was the weight of absence, the deaths of parents, the counterweights of the births of children.
Now I move in slow time, listen to the poem as I carry it, and let memory tell me where to go – to deliver the poem, and be delivered.
–Kim Cheng Boey
---